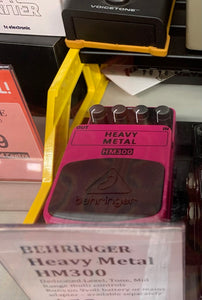 Behringer HM300 Heavy Metal Distortion Guitar Effect Pedal
Not Just Metal - Hot Pink Heavy Metal!
The Behringer Heavy Metal HM300 distortion pedal is an easy way to inject molten-hot heavy metal tone into your guitar rig. And you've got an amazing range of distortion tones to discover once you start tweaking knobs. The Low tone control can cut your lows almost completely, but you'll probably use it to add extra punch and girth to your tone. The Mid control is perfect for creating scooped-mid metal tones.