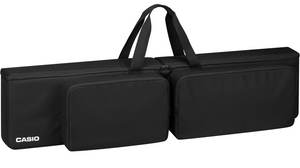 Product Information:
Look no further. Casio has the perfect solution for you! With Casio's SC-900P keyboard bag, you can safely transport your keyboard everywhere and anywhere you go. Faithfully created to protect your instrument from impact and water damage. Finished with a sleek black design. The SC-900P keyboard bag is carefully made to support you as you move your instrument from A to B.

The removable straps are made with padded shoulders to help you carry your digital piano with much ease and support on the shoulder and two large pockets, so you can pack your cables, pedals, sheet music and music stand along with you.
and for when you need to take your digital piano on the road.
This case has room for music stand, AC adaptor, and the optional SP-34 three-pedal unit.
The PX-S7000 can also be put into this case by detaching its built-in pedals and stand. 
Specifications:
Water-repellent soft case gig-bag
Multiple compartments for storage
Durable and hard-wearing materials

Slimline Case
 Dimensions: 1,375 x 223 x 315 mm