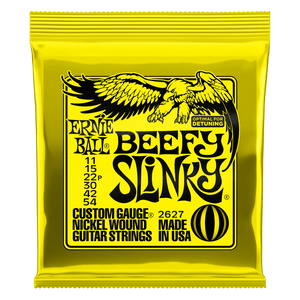 ERNIE BALL-

BEEFY SLINKY

2626
Nickel wound

guitar string set 12-56 gauge

Ernie Ball Slinky Electric Strings are our top selling set and are favored by many musicians around the globe.
Individual Gauges of each string:
1  -11
2 -15
3 -22p (plain steel - not wound )
4 -30
5 -42
6 -54
Most brand new electric guitars come with 9-42 gauge strings on them, so this string is designed for guitarists who like to "detune" all the strings to a lower pitch, common in Rock, Heavy rock or Metal songs. Some guitarists just like the feel of the strings to be more like an acoustic guitar.

New Beefy Slinky for rock or metal there's an Ernie ball set to suit all guitarists

this should fit most electric guitars, but if in doubt give us a phone call!
To use this thickness of string possibly requires using a file on your top nut ( the one by your tuning pegs ( or Machine heads ) to fit the big strings in. There's plenty of vids on Utube, or we can do it for you at our shop for a small fee!

The thicker the string the more bottom end or "tone" you can get from your guitar, also string life and guitar volume. That comes at the price of being harder on your fingers and "feel" of the strings.
These strings are engineered with the performer in mind and they will always stand up to rigorous practice and performance schedules.

If your not sure of what strings are the "right" strings for your guitar, call Paul at Kings Sound Centre Levin NZ for some free advice 0274485879 or 063685879